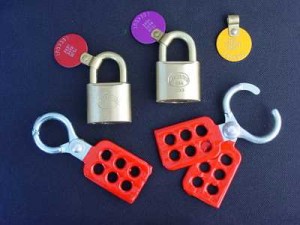 Lockout/Tagout
Prevents accidents.
Lockout/Tagout
Saves lives.
Lockout/Tagout
It's the law!
Locking out equipment during maintenance and change-over has not only prevented accidents, but also saved lives. Lockout/Tagout is the law.  If you have not started a Lockout/Tagout program yet, start one today.  If you already have a Lockout/Tagout program, see what we have to offer.
Lock (model 700 with 7/8″ or 1-1/2″ shackle): 9/32″ diameter shackle 1-9/16″ BODY width 3/4″ horizontal shackle clearance 5 tumbler pin design
Hasp: 1/4″ diameter 1″ length 1-1/2″ BODY width 4-3/8″ height 6″ lock capacity 3/8″ hole size
Tough scratch resistant anodized aluminum tag
You can specify the number of keys. A colored tag comes standard with every lock.  Use to separate departments or note special caution.
Each tag can have your employees' name or department stamped on it.
If an employee retires or leaves the company, simply replace the tag and continue to use the lock.
Colors are available in red, blue, green, purple, orange and bronze.
Poly resin coated lockouts are available in aluminum or steel.
Painted locks are available on request.
You can remain OSHA compliant!